Been pretty busy this week with finishing off various studies and preparing for a immenant trip to Tokyo (first time ever visiting, wooo! but I digress), so no progress on the skaven, sadly. I've got a few days before we fly off to kick out some miniatures however.
Today, though, was Gamesday (well, it's now the morning so technically
yesterday
was Gamesday). Last year was the first time I'd been since I was a kid, and while fun, it was a little disappointing to be honest. This year, however, was super-awesome! If you care at all about the sorts of things that were being shown you've probably seen them already on other people's blogs or wherever. I won't bother re-posting them. I figure if I'm going to make sporadic, late posts, I may as well keep the content original, right?
So with that in mind, here are a couple of photos I took.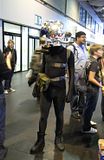 Culexus costume! The eyes were all glowy and everything!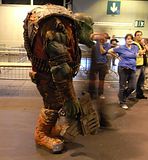 Waaagh!
Nerrrrrds