You know what?
Yellow armies are
awesome
.
Bad Moons. Craftworld Iyanden. Imperial Fists. Marines Malevolent have a cool scheme. I have a soft spot for Lamenters, too. You have to love any force who's history is comprised entirely of horrible things that have happened to them.
I'm a big fan of the BA codex, and their figures (Space Hulk too), but I'm not in love with the chapter enough to really want to paint any. None of their successor chapters do it for me either. Except the Lamenters!
I've never painted yellow before, so here's my first attempt.
Work in progress, obviously.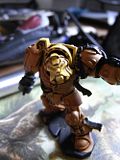 I've been working on this Raven Guard guy too. I won't tell you when I started him though, it's embarrassing.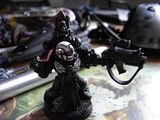 Finally, some progress on the first of my Blood Bowl team. I think I'm going to do the outside of his cloak white.