So, it's been a while since I've posted any pictures. I've not, however, been completely lazy in all this time.
First off, here are some Ultramarines I painted on commission. Quick and dirty, but not too bad I think. Painting clean, bright blue is good fun!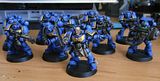 I've also been chipping away at the Iron Hands. Here's their vehicle pool all grouped up together.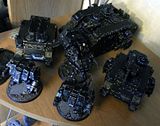 The main new features here are an updated Brother Scaeva, and a completed land raider, the
Purity of Hatred
. I took the opportunity to get some nicer pictures of Brother Verne as well. I discovered the window ledge in the back bedroom is a pretty good spot for getting pictures. Hopefully this will see an end to my horrible yellow tinted photography.